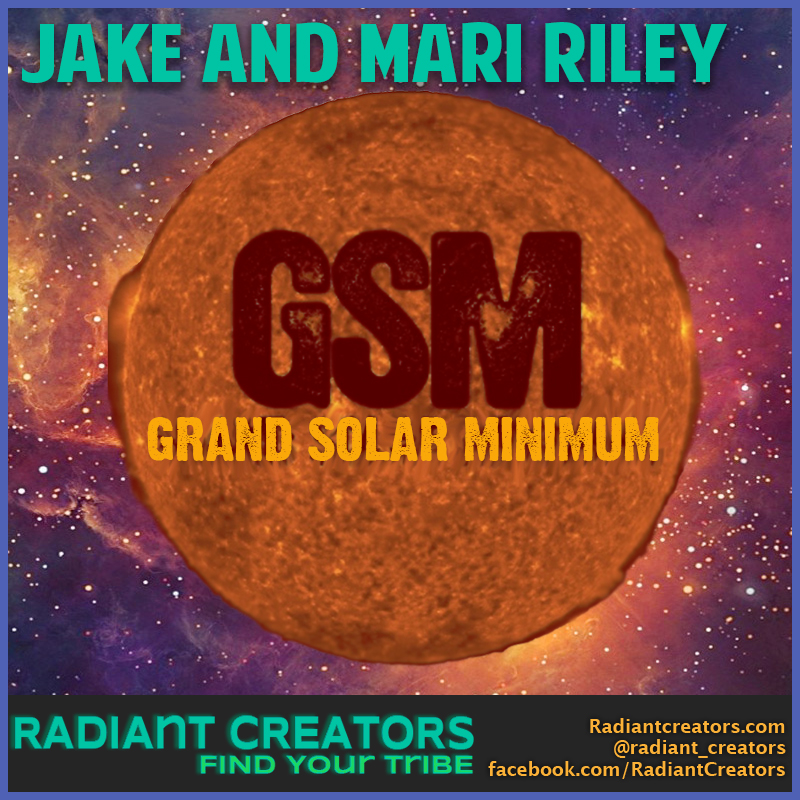 About Guest
From YouTube:
We look at the big picture to show society that we are indeed going into a Grand Solar Minimum. We discuss the different FACTS coming from multiple sources from around the world. We interview people behind the science of the Grand Solar Minimum and strive for society to gain awareness of the changes that are taking place. Our climate is changing and we as a human race need to make a shift and adapt to these changes. We report on EXTREME WEATHER, Space News & Weather, We give Solar updates, discuss sustainable living, growing nutritionally rich foods and much more!
Show Links
Interview – YouTube
https://youtu.be/osH5kmoFo9M
Interview – BitChute
https://www.bitchute.com/video/5VvRkwzZtMrA
Interview – iTunes
https://itunes.apple.com/us/podcast/radiant-creators/id1252852387
Interview – iHeartRadio
https://www.iheart.com/podcast/966-Radiant-Creators-29418059/
Interview – Spreaker
https://www.spreaker.com/show/radiant-creators
Interview – MP3
Download complete show as an MP3 by right-clicking here and choosing "save as".
Content Mentioned During Interview
Radiant Creators – Interview With Scott Chapman – Explaining The Grand Solar Minimum
Ben Davidson of Suspicious Observers – Space Weather & 12,000 Year Cataclysm Cycles
Get Space Weather Alerts with The Disaster Prediction App from Suspicious0bservers https://suspicious0bservers.org
The Disaster Prediction App will show you the current state of the sun, it's effects on earth, earthquake events, and areas of the earth likely to have large earthquakes. There is a space weather portion of the App and an Earthquake portion of the App.



Chan Thomas – The Adam And Eve Story The History Of Cataclysms (1993 Full UNCENSORED)
https://archive.org/details/ChanThomasTheAdamAndEveStoryTheHistoryOfCataclysms1993FullUNCENSORED
Full text of Chan Thomas – The Adam And Eve Story – Chapter One: The Next Cataclysm
https://youtu.be/solOeSmQdzw
https://www.bitchute.com/video/ch5KjV1g2Cgv
Life/Death Rhythms of Ancient Empires – Climatic Cycles Influence Rule of Dynasties: A Predictable Pattern of Religion, War, Prosperity and Debt
https://amzn.to/2UPvmP8
The Fate of Rome: Climate, Disease, and the End of an Empire
https://amzn.to/2GMMFIc
Upheaval!: Why Catastrophic Earthquakes Will Soon Strike the United States
https://amzn.to/2Vf1Th6
Learn about Space Weather with the SUN SERIES
https://www.youtube.com/watch?v=_kZ6HSPkf8U&list=PLHSoxioQtwZcJj_9clLz7Bggso7qg2PDj
Great Presentation by David Mauriello A.K.A. Diamond From Oppenheimer Ranch
UPHEAVAL! – John Casey – Why Catastrophic Earthquakes Will Soon Strike the U.S. – Part 1 of 5
https://youtu.be/3g4OiBtqFP0
The cool glasses that Craig wears during interviews.
GUNNAR Gaming and Computer Eyewear /Intercept, Amber Tint – Patented Lens, Reduce Digital Eye Strain, Block 65% of Harmful Blue Light
https://amzn.to/2OvqmbU
Guest Social Media
YouTube
https://www.youtube.com/channel/UCP0Dfc4Tt600NS7lKEZtJqQ
Website
https://thegrandsolarminimum.com
Facebook
https://www.facebook.com/thegrandsolarmini
Twitter
https://twitter.com/GrandSolarMin
Patreon
https://www.patreon.com/grandsolarminimum
Alternate Current Radio Links
Alternate Current Radio – Website
https://www.alternatecurrentradio.com/
Alternate Current Radio – Spreaker Page
https://www.spreaker.com/user/acrnetwork
Alternate Current Radio Network – Facebook
https://www.facebook.com/acrnetwork/
Alternate Current Radio Network – Twitter
https://twitter.com/radioacr
Spore – Twitter
http://twitter.com/@spore3327
Hesher – Twitter
http://twitter.com/@HesherMedia