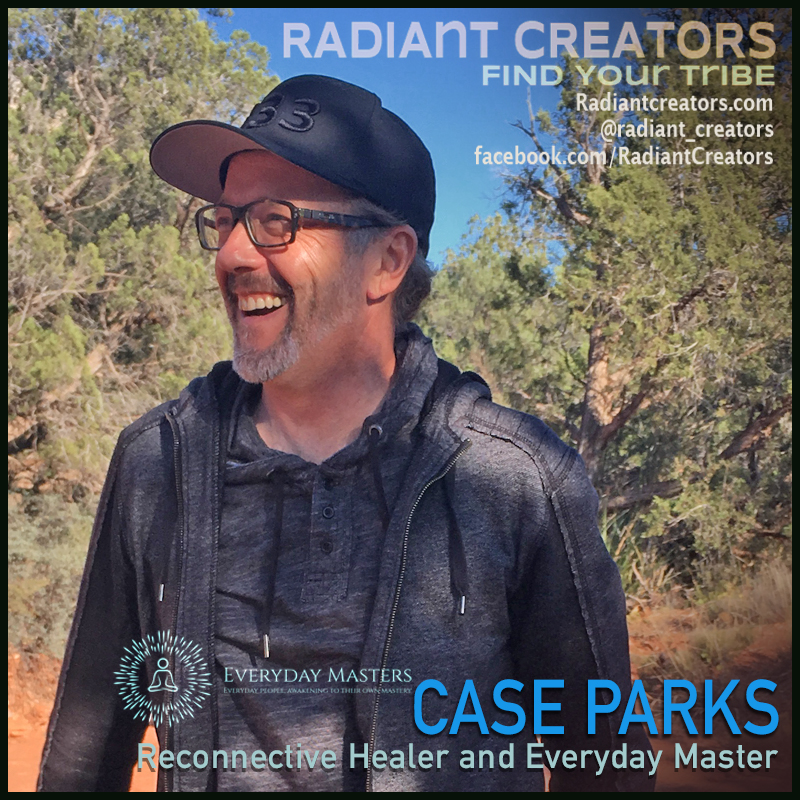 Today we visit with Case Parks at Bell Rock Vortex in Sedona, AZ.
Case is best known for his YouTube channel Everyday Masters where with an alluring mix of wisdom and humor,  speaks on various mind-expanding subjects such as reconnective healing, the existence of higher self, and what it's like to live within the 5th dimension.
Case was a living embodiment of a magical life from the very first moment we met him.  We watched in awe as he rolled effortlessly into a parking spot that seemed to appear out of nowhere in the crowded lot of a major tourist destination.
While conducting the interview, we were interrupted by a wandering tourist who walked right between us and the camera. He seemed drawn to Case and as you can hear in this video, says to us, "You have the most interesting conversations".
We all agreed that this random stranger, captivated by the amazing energy of this interview, was meant to be included, so we made no attempt to edit him out. Case, welcome to Radiant Creators!
Interview Links
Interview – YouTube
https://youtu.be/Lhc8s2W8YmI
Interview – BitChute
https://www.bitchute.com/video/WGpquiwVq9K6/
Interview – iTunes
https://itunes.apple.com/us/podcast/radiant-creators/id1252852387
Interview – iHeartRadio
https://www.iheart.com/podcast/966-Radiant-Creators-29418059/
Interview – Spreaker
https://www.spreaker.com/show/radiant-creators
Interview – MP3
Download complete show as an MP3 by right-clicking here and choosing "save as".
Content Mentioned During Interview
The Mandela Effect "You can't handle the Truth", or can you?
https://youtu.be/TNW_YzJrXQE
Love train or Fear train? Choose now! They're speeding up!
https://youtu.be/MCkWMFfhSTM
Your Higher Self is Guiding You! Quit Being a #%*@^+ 🙂
https://youtu.be/Kk8KQO3n19g
Full Bashar (Early video of Bashar. This video was not referenced directly during interview, but Case and his message are greatly influenced by Bashar.)
https://youtu.be/AubaQ3N5htY
Case Parks Social Media
YouTube
https://www.youtube.com/c/EverydayMasters
Website
http://www.everydaymasters.life
Facebook
https://www.facebook.com/everday.masters
Twitter
https://twitter.com/MastersEveryday
Instagram
https://www.instagram.com/everydaymasters33
Alternate Current Radio Links
Alternate Current Radio – Website
http://www.alternatecurrentradio.com/
Alternate Current Radio – Spreaker Page
https://www.spreaker.com/user/acrnetwork
Alternate Current Radio Network – Facebook
https://www.facebook.com/acrnetwork/
Alternate Current Radio Network – Twitter
https://twitter.com/radioacr
Spore – Twitter
http://twitter.com/@spore3327
Hesher – Twitter
http://twitter.com/@HesherMedia