New to ACR – Radiant Creators
Radiant Creators is a collaborative endeavor composed of people whose passion, purpose and dedication requires forging their own unique path of empowerment and livelihood. These are people who willingly choose to buck convention, do what they love, create their own businesses, and live by their own rules.
As highly determined conscious creators, they are either aware of, or in process of finding their greater purpose. A Radiant Creator isn't making a living, they ARE living! Our purpose is to encourage inspiration, support, collaborative opportunities, and passion toward a life of thriving and not just surviving..
---
Latest Episodes
---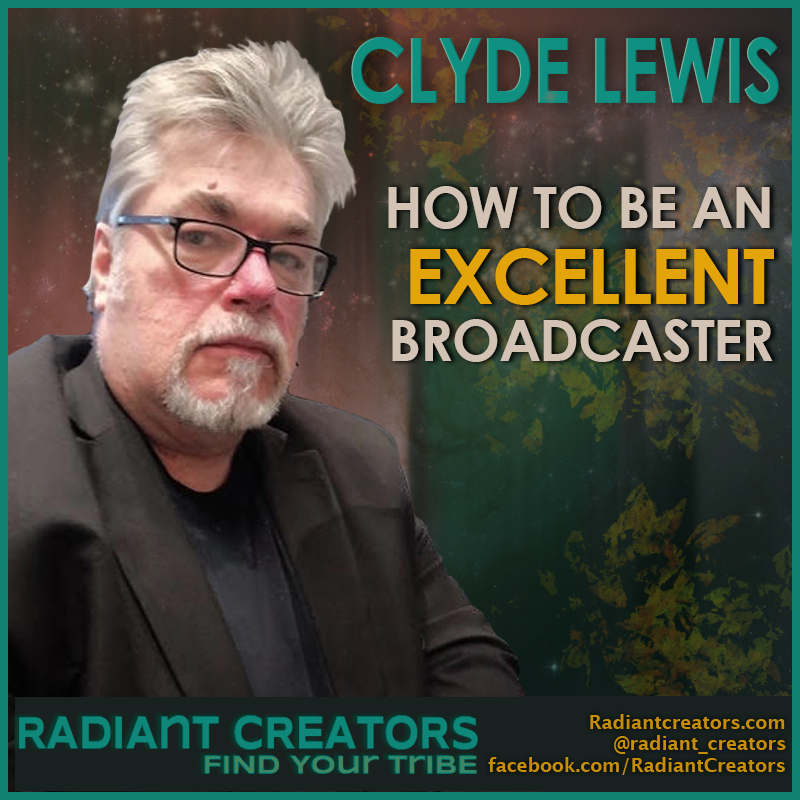 About Guest
Clyde is a powerful voice in parapolitical and paranormal news and commentary. With a diverse background in news, acting, writing and radio, he entertains and captivates audiences across multiple platforms. Lewis' career in radio began in Utah in 1982 and he created Ground Zero in 1995 in Salt Lake City. Lewis has produced Ground Zero programs online, on radio and on television. The program (which takes its name from the scientific definition of the term) joined FM News 101 KXL in 2011 and consistently ranks #1 in the market.
Lewis has appeared in a SHOWTIME special with magicians Penn & Teller, as well as the television programs Sightings, Strange Universe and the Discovery Channel special Return to the Bermuda Triangle. He has been published in Paranoia Magazine, UFO Magazine and Unknown Magazine, and has been featured in Rolling Stone. Lewis is the model for characters in such books as Safe House by Andrew Vachss, Supernatural Law by Batton Lash, and Alien Invasion by Michael Tresca. A fan of B-horror and science-fiction movies, comic books and mythology, Lewis has also published his own fanzines and co-written scripts for television and radio. He appeared in the movies Nightfall, which he co-wrote with director Kevin Delullo; Cage in Box Elder; and Citizen Toxie: The Toxic Avenger Part IV, in which he provided the voice of the title character.
Lewis has written four books: Riding The Shockwave, Disclosure: UFOs, Geoengineering The Apocalypse, and Transhuman Substantiation.
Show Links
Interview – YouTube
https://youtu.be/D2BKjOQ7CcU
Interview – BitChute
https://www.bitchute.com/video/dS5hzA1zcIli
Interview – iTunes
https://itunes.apple.com/us/podcast/radiant-creators/id1252852387
Interview – iHeartRadio
https://www.iheart.com/podcast/966-Radiant-Creators-29418059/
Interview – Spreaker
https://www.spreaker.com/show/radiant-creators
Interview – MP3
Download complete show as an MP3 by right-clicking here and choosing "save as".
Guest Social Media
YouTube
https://www.youtube.com/user/groundzeroradio
Website
https://www.groundzeromedia.org
SoundCloud
https://soundcloud.com/groundzeromedia
Facebook
https://www.facebook.com/groundzeroradio
Twitter
https://twitter.com/clydelewis
Alternate Current Radio Links
Alternate Current Radio – Website
http://www.alternatecurrentradio.com/
Alternate Current Radio – Spreaker Page
https://www.spreaker.com/user/acrnetwork
Alternate Current Radio Network – Facebook
https://www.facebook.com/acrnetwork/
Alternate Current Radio Network – Twitter
https://twitter.com/radioacr
Spore – Twitter
http://twitter.com/@spore3327
Hesher – Twitter
http://twitter.com/@HesherMedia
RC SoundCloud
RC Facebook
RC iTunes
RC Twitter
RC GAB
RC Instagram
RC Minds
RC BitChute
RC Linkedin
RC Google+
RC iHeartRADIO
RC Spreaker
Read more...
0 comments
---
Read more...
0 comments
---
Read more...
0 comments
---
Read more...
0 comments
---
Read more...
0 comments
---
---